Testimonials
We asked some of our recent graduates what they thought of the Structural Detailer Training course. Here are some of the highlights of what they had to say.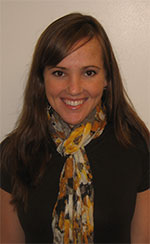 Stacey Bell Hill
Detailer/Special Projects
Bell Steel Company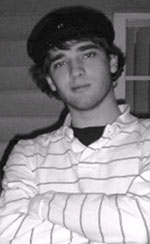 Stephen Ross Nichols II
Prefabrication Department
Southeastern Construction and Maintenance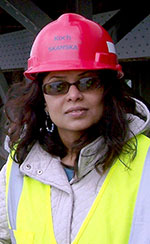 Rupal Shah
Structural Steel Detailer
Skanska Koch Inc.
What motivated you to take the course?
Rupal: I wanted to gain more knowledge about steel detailing and to advance my career. My company offered me incentives upon completing the course with a minimum grade.
Why did you choose to take this course as opposed to others offered at community colleges, etc?
Stacey: I liked the fact that it was a self-paced course and that the material covered was exceptionally detailed.
Stephen: The colleges I looked at offered Detailing courses, none of which were strictly steel based, or even covered steel related detailing.
What material did the course cover?
Stephen: The course covered an immense amount of material - Contract Document, Detailing processes, common connection details, basic detailing conventions, project set-up and control, erection drawings, shop drawings, and quality control.
Describe the difficulty level of the course.
Stacey: I would not say this course is necessarily difficult. It is vast amount of material that requires time and concentration and can become difficult if you do not fully read and understand the material before moving on to the next chapter.
Stephen: As long as you thoroughly read the Detailing for Steel Detailers book any person should have no trouble learning the basics of steel detailing. For the related math sections taking notes is the key to comprehending the calculations involved in steel detailing.
What course content was particularly helpful?
Stephen: The course provided video clips covering many aspects of steel detailing. Being able to actually see certain connections and column details helped out extremely. The course book also included many examples of erection and design drawings, which proved helpful.
Rupal: I found the whole course content helpful for a beginner to understand and learn more about steel detailing.
How were your skills tested?
Stacey: After reading the detailing and math modules and watching videos on the material covered, there were tests with multiple choice, true/false, fill-in the blank and matching type questions.
How long did it take to complete the course? Describe what it was like to work in the self-paced environment.
Stacey: I completed the course in about 6 months. Because I was working 40 hours a week and going to night school at the time I started, the self-paced environment worked well with my schedule. I never felt rushed and could take my time on each section making sure I understood the material before moving on.
Stephen: The course took me close to a whole year to complete. I worked hard to maintain a regular after work schedule, taking 30 minutes to an hour each week day. Working in a self-paced environment was excellent. The instructors make it so by readily providing help when needed.
Rupal: It took me almost one year to complete the course. Since it was a self-paced environment, I was able to immediately apply my new knowledge and experience at my job.
How did this detailer training compare to others you have taken?
Stacey: This was the first detailer training I have taken. However, I can say the course was very thorough and what I learned has been extremely useful in my job.
Rupal: I feel that the course as it was developed and structured provided me with a sound understanding of structural detailing basics in a more progressive means, as opposed to trying to develop skills through a "on the job" training.
Was the course a worthwhile investment of your time and money? Elaborate.
Stacey: Yes, I believe this course was worth the investment of my time and money. It was extremely beneficial to go at my own pace because I could still work and go to school. Also, I feel I would have had to take three or four different courses to equal the amount of material I learned in just this one, thus saving time and money.
Stephen: Spending the time and money to understand the complete scope of my job was definitely worth it.
Rupal: Yes. I gained knowledge about steel detailing. I used to work from other detailers sketches but now I am able to start detailing from scratch.
What elements were effective and ineffective about the web-based format? Was the technology easy to navigate?
Rupal: I found the web-based format very effective. The overall presentation about this course was easy to navigate.
How has this course been beneficial to your career? How did your career or job function change during or after completing it?
Stacey: This course has taught me things that I would probably not have known without 5+ years of experience in steel detailing. I am more comfortable and confident with my daily work; therefore, I am not asking as many questions.
Has completing the course made you more productive in your daily work?
Stacey: Yes, I spend a lot less time asking questions or having something explained to me, which in turn allows me to focus more on my work.
Stephen: With the knowledge I've gained from completing the course I've become much more industrious in my work. I take more pride in knowing that I can contribute more to my company with the knowledge and skills that I have learned.
Rupal: After taking this course I have a better understanding of what is required of me. It also has given me confidence in my drawing presentation, which has also resulted in fewer errors in my drawings.
How did this course improve your understanding of your day-to-day work?
Stacey: I am able to read and comprehend documents and drawings better every day.
Stephen: Right from the beginning this course began to improve my understanding of my day-to-day work. I currently work in the prefabrication department analyzing prints for CAD programming. This course gave me the ability to actually understand exactly what I was looking at on each print, making it easier for me to complete my assignments.
Rupal: This course improved my understanding of the different processes a shop drawing needs to take, from design, to approval and then all the processes of fabrication. The course will help me apply my knowledge towards completing projects accurately and on time.
If you are working as a detailer now, how much knowledge from the course were you able to immediately apply to your job?
Stacey: I was able to apply about 70% of what I learned to detailing and the remaining 30% to everyday business in the steel industry.
Rupal: I was able to apply knowledge from this course immediately on daily work.
How has your company benefited from you taking this course? What is your manager's opinion about the results of the course?
Stacey: I am more knowledgeable about all the aspects of steel now and can use what I learned to help others. My manager feels comfortable giving me more responsibility.
Rupal

:
"Before Rupal took this course, she did not have basic understanding of detailing and so would work from other detailer's sketches to provide detail drawings. After the course she now has a good basic understanding of what it is all about and is able to produce drawings entirely on her own. She continues to improve everyday and with her understanding now will ask the right questions to help her continue in learning."
....Mike Gallagher, Chief Draftsman
What would you say in response to those that say "It costs too much"?
Stacey: It is worth the cost because you would have to take three or four separate classes to cover all the material this one course covers. Also, the course goes into great detail about many subjects which are a must for a detailer.
Rupal: The knowledge you gain from the course is of much more value than compared to the cost of the course.
If you had to write a two-sentence review of this course, what would it be?
Stacey: I have gained knowledge that would have taken me five years to learn as a detailer without training if I had not taken this course. I now feel comfortable navigating the AISC Steel Construction Manual since my understanding of the material has doubled.
Stephen: This course was a great way to learn the fundamentals of steel detailing. The depth of the material covered is immense.
Rupal: I am pleased with the knowledge gained after taking this course. This material helped me prepared to be more complete on dealing with steel detailing in daily works related issues.
Please feel free to include any other comments here.
Rupal: I am glad I took this course. Overall the course was excellent. I have learned all the basics of steel detailing. It's really helpful and beneficial to me in daily work, the instructor was always available to help with any kind of questions or concerns about the course that I had. I find this course a helpful means of learning basic skills that will benefit my employer and myself for years to come.
I definitely recommend this course.